It's Emmy time again, and along with the awards, it's party time. A favorite of the Hollywood stars, celebs and VIPs is always Doris Bergman's Emmy Style Lounge and Party, held at the Fig and Olive restaurant. This year's sensational event was held on Thursday, September 14th, hosted by Buywine.com and presented by Skinside Drinkable Collagen.
Guests enjoyed a delectable lunch and were treated to gifts galore, including gowns and dresses for her, bespoke suits for him, beauty products and cosmetics, luggage, chic watches, fabulous fragrances, unique beverages and spirits, luscious sweets and pawsitively precious presents for their pampered pooches.
We didn't see any doggies there, but bow-wow-wow, will they be excited when their mommies and daddies return home! That's because guests were gifted with a gorgeous canvas bag, covered with pawprints, and filled with all kinds of pet goodies. Christy Araron, owner of CJ's Pet Staycation and Pampered Pets Playhouse packed the case with pet toys, bowls, a beach towel, training pads, and human grade, bone-shaped, waffle-like treats in a box labeled, Lovin' from the Oven. She also included a certificate for a complimentary 2-night staycation for the tail-waggers in the family.
The celebs and guests were thrilled with all the gifts for humans, too! There were baubles, bangles and beads for every woman to enjoy. We loved the jewelry from Twisted Silver. Founder and designer Debra Mitchell uses earthy base metals, recycled, found objects, and vintage asymmetry to create an edgy, trend-setting line that is sure to garner compliments wherever you go.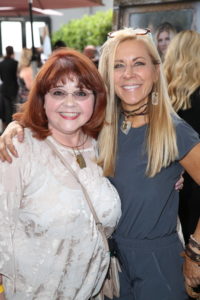 Jeanne Vixen Jewelry featured a prosperity ring, which I put on immediately, since I love the style and meaning behind it. She also showed necklaces and earrings with some of her favorite materials being Sterling silver, GoldFilled, leather, Vegan leather, Chalcedony, Labradorite, Citrine, Amber, Selenite, Moonstones, and Celestite. Jeanne is a skilled artisan who has been making jewelry since 1990.
Amy D'Ambra and Christine Rich presented their My Saint My Hero jewelry line, which includes signature Benedictine Blessing Bracelets, along with necklaces, earrings and sacramental pieces. Their lovely and special Wearable Blessings serve as constant reminders of purpose, hope and inspiration.
The incredible and beautiful Sue Wong greeted guests, showing some of her amazing gowns, as well as her fragrances. Beauty, Magic, and Transformation are three of her eau de parfums that come in stunning bottles you'll want to display in your vanity area.
For less formal wear, the female celebs were stopping by Single Dress and Kaya Di Koko to get chic and trendy dresses and tops in awesome colors and prints. Sooooo hot and soooo cool with sexy necklines, hemlines, and overall lines to make women look oh-so-fine.
As for the men, you simply can't get more elegant than with Art Lewin.  He'll suit you up in the finest Bespoke Tailored Suits and Shirts that are distinctive and distinguished. Art is a terrific guy who knows how to make every guy look…and feel… terrific. Art Lewin Bespoke Executive Clothiers is one of the leading custom clothiers in the country, who for over two decades, has catered to Hollywood Stars, Corporate Executives and other industry leaders.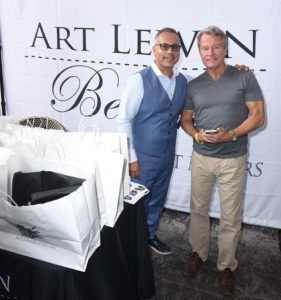 Olympia luggage was a big hit with guests, who had their choice of fabulous bags in blue, pink or red.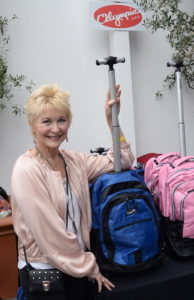 Chef Elliot added some sweets for the suite, with oh-so-delicious red velvet mini-bundt cakes with cream cheese icing flavored with bourbon.  Spirits included Spa Girl vodka martinis with cucumber or pear flavors, or for the non-alcoholic taste, Hint offered waters with various fruit flavors.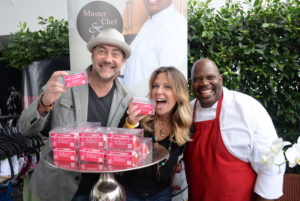 Thanks go to the sponsor BuyWine.com, a site that helps you "Quench Your Thirst for Knowledge." You'll find articles about all kinds of wine, food, and travel along with information on the history of wine, different regions where it is made and directories of wine sellers all over. Guests were treated to tastes at the event, and bottles of various fine wines to take home and enjoy.
A drink of a different kind is Skinside – it's a drinkable collagen daily supplement in the fast-growing skin category called "liquid nutricosmetics." Formulated in Switzerland, Skinside is an effective new way of delivering purified, anti-oxidant rich collagen directly into your body to restore and maintain a more supple, youthful tone to your skin. Having one Beauty Shot a day can benefit the skin on your face, neck and entire body.
Of course, what makes the Emmy-Gifting Suites so exciting is all the celebs and VIPs who attend.  WHO was there?  2017 Primetime Emmy Winner, Kim Estes, Best Actor, Short Form ("Dicks"), Patrika Darbo, 2016  Primetime Emmy Winner, Best Actress Short Form ("Acting Dead), Primetime Emmy Nominees, Kevin "The Bull," Host of Emmy Nominated Series ("American Ninja Warrior"), Kelsey Scott ("Walking Dead"), Mo Collins ("'F' Is For Family"), joined Multiple Oscar Nominee Bruce Dern, Genevieve Buechner ("UnReal"), Shiva Negar ("American Assassin"), and Hollywood Icon Deidre Hall ("Days of Our Lives").
Other celeb sightings included Brigitte Nielson, Denise Boutte, Tony Denison ("Major Crimes"), Michael Campion ("Fuller House"), Naomi Grossman ("American Horror Story"), Nathan Davis, Jr. ("Detroit"), Gleb Savchenko ("Dancing With the Stars"), Steven Bauer ("Ray Donovan"), Lotte Verbeek ("Madam Secretary"), Marilu Henner,  Dee Wallace, Maria Conchita Alonso, Rosa Blasi ("The Thundermans"), and Toks Olagundoye.
In the spirit of giving back, guests & sponsors donated unwrapped gifts for young adults (ages 13-18) for a Pre-Holiday Gift Drive benefiting 'Wednesday's Child' — a weekly segment airing on KTTV FOX 11 News, Los Angeles, with Anchor Christine Devine.  'Wednesday's Child' highlights 'harder to place' children in the LA County foster care system who are in need of adoptive families.. Bergman always invites 2 foster children to join in on the festivities and experience what it feels like to be treated as a VIP.
It was a grand event, hosted by a grand lady: Doris Bergman. She sure knows how to throw a party!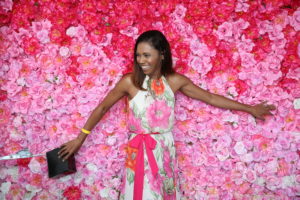 Other gifts and services were provided by:
Abingdon Co. Timepieces, The Dry Bar, Montrose Regenerative Cosmetics & Laser Center, Curlifornia, Hair Swell, Chef Elliott's Red Velvet Bourbon, Reema Beauty, Burger Time, Mascarpone Cheesecake by Chef Turok, Burger Time, Rock Your Hair, Sunless Beauty, Marriagemindedonly.com, Purad'or, Miradryla.com, "Loaded Dice Films' "Wheels" DVDs, Astrologer Kelly Surtees, and VIP Gift Bags provided by Buywine.com.
Photos courtesy of Doris Bergman.